My dear, poor, non-French people,
I know some of you can feel a bit lost in Paris, so here are my favorite restaurants there…
Of course, it's not a complete list, there are so many places I like to go!
No rankings, they are all good and very different, try them and tell me.
Just allow me one piece of advice : don't try to test them all (except if you're staying for weeks)…
Paris is all about walking and discovering : don't turn into a real parisien, running and grumbling all day because you have no time to do what you had planned to !
Use this time in your life to disconnect : go "au pif", with your nose…  Let  your feelings guide you. That's what I like best. That's also how you become a real parisien by the way : when you start to discover new places, and have your own secret best addresses…
Prêt ? Partez !
Ready? Let's go!
A réserver
Let's start with the ones you should really book as soon as you've received your flight email confirmation…
As you might know, you're not the only person dreaming of enjoying the parisian moveable feast…
Paris is the gastronomy capital of the world, and also one of the most visited city.
It's hard even for Parisiens to book in the most coveted restaurants : I could write a whole post about the restaurants where I never managed to got a reservation, despite all my tricks !

129, avenue Parmentier
75011 Paris
Just the best restaurant in Paris.
Prix fixe menu (60 euros), always amazing.
The chef is the first French on the list of the best chefs in the world. I was lucky to interview him when he came to LA for the great "Le Grand Fooding" at the Moma : not only the dish he was making was amazing (beans, chickpeas and coriander with Meyer lemon, so simple and bursting with flavours), but he was also very funny and unpretencious. Love this guy.
Great organic wines too. Even my boyfriend was impressed! (and the waiters and sommeliers are also all kind of cute, non?)
PS: A big secret if you couldn't book in advance : after 9.30 pm, they are open without reservation. Just go there, and wait at the bar with a glass of one of their great "vins naturels"…
PS2 : By the way, here is the amazing dish he baked for Le Grand Fooding. Pas mal, non?
80 rue de Charonne,
75011 Paris
This restaurant is the best discovery of my last voyage in Paris…
One of the hardest to go to too! You have to book at least one month in advance, but you can do it on line, so it's convenient when you live overseas.
Now let's talk about food.
It's amazing !
Prix fixe too, 55€ at night.
Actually I'm trying to find the words to describe what I ate there, but I can't.
Sometimes the eyes tell the story better…
PS : I hear it's easier to book for le déjeuner, lunch.
Anne-Sophie Pic
is for me the symbol of the French and perfect woman.
Oui oui!
I'm in love of her cuisine as much as of her story.
She comes from a great family of chefs : her father and grand-father were both three-Michelin stars. But as a kid, she didn't want to follow their footsteps ; actually, she absolutely rejected it, and never learned how to cook!
As she had just finished her studies, her father suddenly died, and her life totally changed. She decided to take over the restaurant and the legacy.
In a few years, she managed not only to keep the restaurant, but also to gradually win the same three stars her father and grand-father once earned. She is actually the only woman to be "Trois macarons".
Her cuisine is very delicate and precise. I love the way she plays with flavours and textures. She's a "
publicité vivante
" (living ad) for "less is more".
In
La dame de Pic
, her restaurant in Paris, she has decided to play with perfumes.
Upon deciding what you're going to eat, you get to smell a perfume, the same way you would pick one at
Annick Goutal
or
Serge Lutens
(my two favorite French
parfumeurs
, these are other places you should really see and smell in Paris).
You then get a menu which follows the perfume you chose.
PS : If you speak French, her
cookbook
is also 
incroyable
…
9, Carrefour de l'Odéon
75006 Paris
My dear, dear, Yves Cambdeborde, you're such a French and Perfect chef…
Just next to l'Odéon, for a très Saint Germain des près moment… It's also very good. Neo-Bistro and Prix fixe menu, written on the mirror…
There are always French celebrities too…  And I hear the hotel, Le Relais is merveilleux.
27, rue Malar
75007 Paris
Great great bistrot-style haute cuisine.
Stéphane Jego loves basque food and most of all very good food.
His creamy riz au lait (rice in milk ?) can stay in your dreams for years…
PS : I don't know why Americans are so obsessed with l'Ami Louis. French people never go there, it's not good ! Go to l'Ami Jean !

La tour Eiffel
Paris
This is most certainly the most romantic restaurant in Paris. If not the world !
(and also the smallest kitchen!)
Dining there whith Paris "à vos pieds", to your feet…
At night when the tower sparkles every hour, and when you're in the tower itself, you feel like a shooting star…
That's what romantique looks like !
This is one of the many restaurants owned by Alain Ducasse.
This great French chef has currently 18 michelin stars among all the restaurants he owns and directs!
Palais Royal
Paris
This restaurant is at the same time an amazing food and historic monument.
It was opened a few years before the French Revolution, in 1784, and was the favourite of some pretty famous French gourmets, like Napoleon Bonaparte (yes, this small brown-haired guy who tried to conquer Europe and is kind of still well-know all over the world) or Victor Hugo (the French writer who wrote "Notre Dame de Paris" and who must eat his beard of rage in heaven when listening how "Les Miserables" became "Les Miz").
The decor is still the same, and you can choose to eat at the same table where George Sand (the first French female writer and feminist), Colette (know "Gigi" ?) or Simone de Beauvoir ("The Second sex" writer) once ate. Plenty of feminists!
If these three "Grandes dames" loved the place, then I'm pretty sure you're going to like it too.
Chef Guy Martin has succesfully managed to maintain the balance between tradition and modernity.
Still can feel the Pigeon Prince Rainier III on my bud tastes. Pigeon + Foie Gras + Black truffles + Veal = Perfection ! No wonder the young prince this dish was created for later married a Hollywood Princess named Grace Kelly… It's almost too good to be true!
Le Grand Véfour is also very dear to my heart because it's the first Michelin starred restaurant I ever went, with my dear uncle Bernard. He gave me his love for good food and upscale places, and le Grand Véfour is a beautiful example of both.
5, rue des Prouvaires 
75001 Paris
This is the place where you can imagine what a Parisian restaurant looked like a century ago: in les Halles, the area where the huge food market used to stand.
Up to the 70's you could see butchers in bloody aprons and vegetables and fruit sellers coming from all over France buzzing around all night long to sell produce for the restaurants and shops to use in the morning.
They would then have "breakfast" in the early hours of the day at places like Chez Denise: huge pieces of meat, hachis parmentier, tomates farcies, and a glass of white wine!

7th arrondissement, just a few steps from my dear dear Tour Eiffel: la Rue Saint Dominique…
The street where I used to live… And the street where you can find three amazing restaurants owned by the same great chef, Christian Constant.
First there's the bistrot style version, Café Constant, my favorite. I could kill my mom and even Catherine Deneuve for just a bite of the oyster salmon ginger tartare. And the veal Cutlet !!!! The purée (mashed potatoes !!!)
Then you also have Les Cocottes, in which everything is cooked in Staub cast iron pot.
And Finally, Le Violon d'Ingres, the Michelin star restaurant. Much more posh but also very very délicieux.
2, rue St Laurent
75010 Paris
It's a tiny restaurant, hidden near the Gare de l'Est, the Eastern Railway station. Great wines, amazing cheese (that's where I discovered Tete de Moine for the first time, Monks head cheese!) and surtout specialities from Auvergne (rural, south central France).
The Auvergnats used to own  a lot of cafes in Paris: they left their very poor mountains to try and make it  in Paris at the beginning of the 20th Century, and loved to meet and have their typical food in this kind of restaurant. Try the truffade! The stuffed  cabbage! The aligot! Or my favorite, tripous (yes, stuffed sheep tripe.But trust me, it's super bon!)
4, rue des Grands-Augustins
75006 Paris
Who says French people don't know anything about fusion food ? Nice decor too.
The other restaurant of the chef William Ledeuil, KGB, is also great and not sovietic at all

101, rue Vieille du Temple
75003 Paris
Great wines. Great fish. Great produce. Great moment in le Marais.
(perfect after visiting the Picasso Museum which is to open again very soon!)
15 rue andré del sarte, Paris, France
A very hipster foodie restaurant in Montmartre. I love going there to spot french and perfect parisiens and parisiennes!
Go there on the third monday of the month, for la popote des potes! It's a great tradition, where friends of the restaurant become chef for one night and cook for everybody! 10€ prix fixe menu, and lots of fun!
I actually did a documentary about Amateurs chefs in France, for the TV program "Zone Interdite", on the French network M6, and we shot a good part of it here, with the amazing Philippe Risotto who cooked a great boeuf carotte. He is also the manager of one of the most amazing French band: Airnadette, the best airguitar band ever.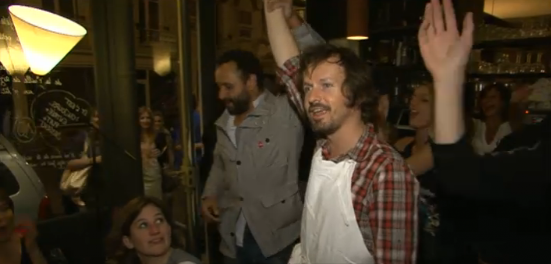 It used to be a wine store. Then they made baguette tartines from scratch for hungry tasters. Now everybody fights to have a table there to eat and drink and taste. Also a great occasion to visit le Canal Saint martin, aka Silverlake upon Seine : Full of bobos, the French hipsters !
PS: Qu'est ce que c'est que ça? Just heard that apparently, there's a Verre Volé branch in Tokyo now! If my japanese friends have tried it, I'd be glad to know their opinion
Fogon
45, quai des grands augustins

75006 Paris
Spanish cuisine tapas style, best arroz negro and paella I can think of.
(and they have a Salvador Dali menu…)
69 Rue des Gravilliers

75003 Paris
It's a house, it's a restaurant, it's great. The idea is that you actually eat in a real house : on the bed of the master bedroom, in the kitchen, …
And it's also very good. They can acommodate big tables for a dozen of friends..
Just next door is a great cocktail and music bar, Andy Walhoo.
And if you have never tried the other main French dish, couscous, go to the other next door restaurant : le 104. Perfect food, and lots of hipsters (and very nice looking parisiennes, my French guy friends say…)
So that's for restaurants… But you have to also think of
Les grandes brasseries
They are a big part of Parisian life and gastronomy… Mostly for the seafood and the decorum…
102 Boulevard du Montparnasse   75014 Paris, France
Used to be very very hype when Hemingway was around (just like La Rotonde or Le Select nearby) and Montparnasse was the place you could come and become a great artist. It's still great, more « vieille France », old Paris, but very good. I love going there with my uncle and pretend it's his birthday. All the waiters come to your table and sing a very special song… The restaurant is huge so it's always very very embarassing !!!
29 Rue Vivienne   75002 Paris, France
My boyfriend used to work on the place de la Bourse, and loves this Brasserie.
Try the very typical entrées, like Tartare (raw beef steak, my boyfriends favorite), or Tete de veau (veal head. I know. But I just looooooove it)
But I love aussi
25 Rue le Peletier 
 75009 Paris, France
French traditional cuisine from le Val de Loire, where I come from.
Great wines from Loire Valley
If I remember well it's open late. And the decor is great.
13 Rue de l'Ancienne Comédie   75006 Paris, France
Incredible plateau de fruits de mer, and some good tête de veau, as I recall.
This restaurant has been around for quite a bit: it opened in 1686! Voltaire, Diderot, the enlightened French philosophers used to come and fight about great ideas while eating there… Well, these meals led us to the French Revolution!
Also, someone you poor non-French people might know used to come here: Benjamin Franklin.
7 cour des Petites Ecuries,
75010 Paris
In 10eme arrondissement, typical and very beautiful wooden decor
Try the choucroute!
7 Rue du Faubourg Montmartre   75009 Paris, France
This is a very traditional brasserie who used to be grand at the time of the Grands Boulevards: people would go to see a play or the first movies by les Freres Lumieres or Georges Melies, and then grab a meal at Chartier.
It serves very traditional Brasserie food, like the famous oauf may, egg and mayonnaise, and is a classic for students, beacause it's so inexpensive!
Related Posts