My poor non French people,
Here is a soup recipe that should bring many a smile on  your dear French friends faces.
Oui, we French people don't spend all our time complaining or frowning at other people's look (although some of you could have put on a more elegant attire to read this French and perfect post… yes, I'm talking to you, still in pyjamas at 4pm lady who is stuffing her face with pisttacchios while read proofing her post. .. wait… oh no, that's me!)
The French love a good laugh, and when they hear La soupe aux choux, they can even get the giggles.
The thing is, the soup is good, but the movie that was made in its honor is even better (wondering now why Hollywood never thought of great titles like "Hot Dog 2″ or "Mashed Potatoes and Gravy").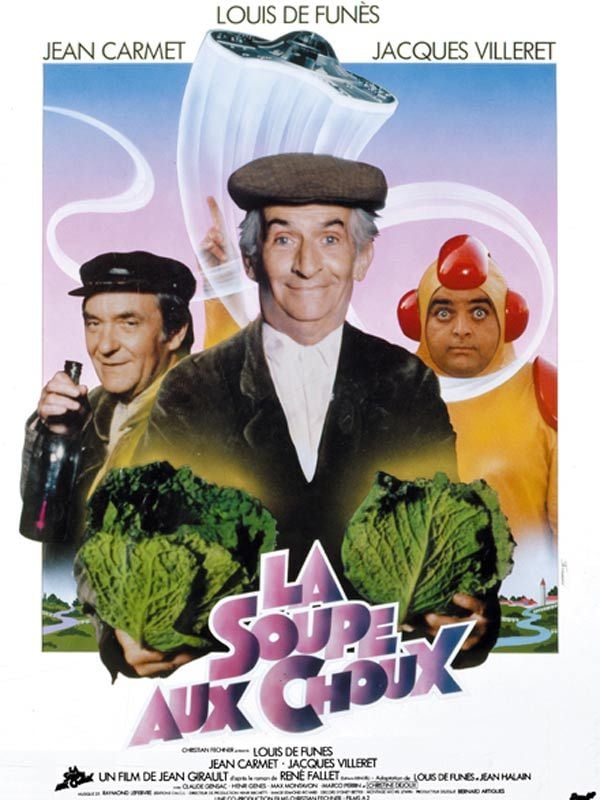 Don't laugh yet. Yes, the poster seems a little bit odd, but we are talking about a worldwide phenomenom here.
OK, maybe not in America, but think of… anywhere else?
La Soupe aux Choux stars one of the most famous French actor of the 70's and 80's, Louis de Funès.
A crazy tiny genius of an actor, who was a huge celebrity not only in France, but also everywhere under the iron curtain, where his movies were among the only foreign productions to be seen. He's to this day still a big celebrity in the former communist countries in Eastern Europe, and I've seen many of his films sold in China. Funès portrayed well the craziness and pettiness of the  French man, and has often played the role of the over the top French chef..
So now, I have to explain the genius of a film that is "La soupe aux choux".
First, consider that it's a movie staring a nice alien, one year before E.T. (Steven, don't tell me the French inspired you!).
Second, it's a culinary movie (hence the titile) in a way, where a soup has magical properties! Oui oui! The cabbage soup in the movie is attracting aliens from other planets! (and they are cute too, non?)
So what makes this soup attract people from other galaxies ? Ok, that's when the classy French touch comes. People who eat this soup have so much gas that the noise travels outside of the Milky Way. Bet you nobody in Hollywood could ever come up with such a story! And bet you want to try the soup, now, why not?
Don't worry, my recipe doesn't attract aliens, and will help you keep your glamour all the way…
La Soupe au Chou
1 green cabbage
3 medium potatoes
3 carrots
4 ounces bacon
1 tbsp baking soda
Salt
Peppercorns
This soup has all the hearty components you need on a cold evening. So make it soon before the spring really flourishes!
And the secret to not have the aliens come from outer space is very easy : just blanche the cabbage first with baking soda for 5 minutes!
This recipe is also a great way to eat a vegetable that is too often forgotten, despite being very good for the health. Green cabbage is full of good vitamins (C, A, B1) and minerals (potassium), and is very low in calories… A great ally to lose a little weight! I add bacon which is not the best for low calory meals, but it adds so much flavor! And to cut the fat, you can make the soup in advance, put it in the fridge, and trim the fat rendered while cooling.
How to make it
In a large pot of boiling water, blanche the cabbage with 1 tablespoon baking soda for 5 minutes. Then drain in a collander.
Peel the carrots and the potatoes, and cut them in 1/2″ dices.
Pour 4 cups of water in a medium sauce pan. Add the carrots and the potatoes
Bring to a boil, add salt and pepper (the whole peppercorns will add sting to the dish when you bite in them)
Cut the bacon in 1/2′ wide sticks, like small lardons. Add them to the saucepan
Reduce the heat to low, cook for 20 minutes
Add the cabbage and simmer for another 10 minutes
Serve warm, with large slices of bread to dig in.
Bon appétit les amis!
PS : and then of course, the perfect movie to comfortably watch home while enjoying the soup is this little jewel of a silly movie. Enjoy the trailer!
Related Posts