My dear, poor, non-French people,
Here is another list for those of you who are lucky enough to go and visit Paris.
Restaurants you can just decide to go at (almost) the last minute.
They are actually my favorites : it's more about daily great food, places where you can escape the sometimes too grey Paris, and warm up life with friends, family, or just you and your glass of wine.
Don't try to test them all (except if you're staying for weeks)…
Paris is all about walking and discovering : use this time in your life to disconnect : go "au pif", with your nose…  Let  your feelings guide you. That's what I like best.
That's also how you become a real parisien by the way : when you start to discover new places, and have your own secret best addresses…
Prêt ? Partez !
Ready? Let's go!

Seventh arrondissement, just a few steps from my dear dear Tour Eiffel: la Rue Saint Dominique…
The street where I used to live…
And the street where you can find three amazing restaurants owned by the same great chef, Christian Constant.
A South-west of France native, he's one of the great French chefs who reinvented traditional food and developped the now famous "bistronomy".
First there's the bistrot style version, Café Constant, my favorite. I could kill my mom and even Catherine Deneuve for just a bite of the oyster salmon ginger tartare. And the veal Cutlet !!!! The purée (mashed potatoes !!!).
I was there this year for my birthday, and treated myself with a wonderful tête de veau. Oui, veal head, with brains and everything. It's a French and perfect delicacy, our former president Jacques Chirac's favorite dish!
Then you also have Les Cocottes, in which everything is cooked in Staub cast iron pot.
And Finally, Le Violon d'Ingres, the Michelin star restaurant. Much more posh but also very very délicieux.
This is also where you can taste the amazing hams made by Eric Ospital in Paris. Gorgeous, non?
2, rue Richer,
75009 Paris,
This is my new chouchou.
I had heard a lot about it by friends, and discovered it last time I was in Paris.
The kind of perfect place  where I would happily spend my days…
Le Richer is a bar in the day, and a great restaurant at night. No, you can't book a table there: they have no phone… Just go, wait for a table, and enjoy.
They have a tiny tiny menu, which means everything is fresh fresh, and always very inventive.
This restaurant is really typical of how the food scene has changed in Paris these last few years.
After guys like Inaki Aizpitarte (I'm talking of Le Chateaubriand in my other  restaurant recommendation post), a whole new generation of men has reconnected with cuisine, and discovered a sexy, modern and simple way to spend great time at a table.
And you know what ? It's not expensive. (Go there for me !)
5, rue des Prouvaires 
75001 Paris
This is the place where you can imagine what a Parisian restaurant looked like a century ago: in les Halles, the area where the huge food market used to stand.
Up to the 70's you could see butchers in bloody aprons and vegetables and fruit sellers coming from all over France buzzing around all night long to sell produce for the restaurants and shops to use in the morning.
They would then have "breakfast" in the early hours of the day at places like Chez Denise: huge pieces of meat, hachis parmentier, tomates farcies, and one of the best places to have real French fries!
2, rue St Laurent
75010 Paris
It's a tiny restaurant, hidden near the Gare de l'Est, the Eastern Railway station. Great wines, amazing cheese (that's where I discovered Tete de Moine for the first time, Monks head cheese!) and surtout specialities from Auvergne (rural, south central France).
The Auvergnats used to own  a lot of cafes in Paris: they left their very poor mountains to try and make it  in Paris at the beginning of the 20th Century, and loved to meet and have their typical food in this kind of restaurant.
Try the truffade! The stuffed  cabbage! The aligot! Or my favorite, tripous (yes, stuffed sheep tripe.But trust me, it's super bon!)
4, rue des Grands-Augustins
75006 Paris
Who says French people don't know anything about fusion food ? I love Ze kitchen galerie.
Ze name is quite funny, and ze décor is very nice too…
You can see the kitchen from your table, which is always a good sign that you can trust the chef…
The other restaurant of the chef William Ledeuil, KGB, is also great and not sovietic at all
101, rue Vieille du Temple
75003 Paris
Great wines. Great fish. Great produce. Great moment in le Marais.
They have a huge table you can share with friends or délicieuses inconnues…
(perfect after visiting the Picasso Museum which is to open again very soon!)
15 rue André del sarte,
75018 Paris
A very hipster foodie restaurant in Montmartre. I love going there to spot French and perfect parisiens and parisiennes!
Go there on the third monday of the month, for la popote des potes! It's a great tradition, where friends of the restaurant become chef for one night and cook for everybody! 10€ prix fixe menu, and lots of fun!
I actually directed a documentary about Amateurs chefs in France, for the TV program "Zone Interdite", on the French network M6, and we shot a good part of it here, with the amazing Philippe Risotto who cooked a great boeuf carotte.
He is also the manager of one of the most amazing French band: Airnadette, the best airguitar band ever.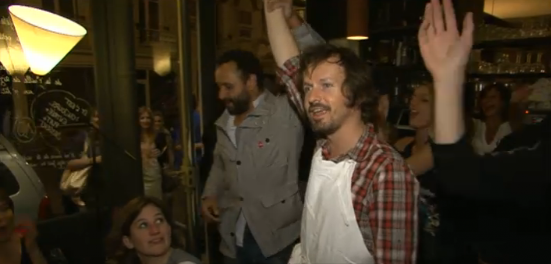 67 rue de Lancry
75010 Paris
It used to be a wine store. Then they made baguette tartines from scratch for hungry tasters. Now everybody fights to have a table there to eat and drink and taste. Also a great occasion to visit le Canal Saint martin, aka Silverlake upon Seine : Full of bobos, the French hipsters !
PS: Qu'est ce que c'est que ça? Just heard that apparently, there's a Verre Volé branch in Tokyo now! If my japanese friends have tried it, I'd be glad to know their opinion
69 Rue des Gravilliers

75003 Paris
It's a house, it's a restaurant, it's great.
The idea is that you actually eat in a real house : on the bed of the master bedroom, in the kitchen, …
And it's also very good. They can acommodate big tables for a dozen of friends..
Just next door is a great cocktail and music bar, Andy Walhoo.
And if you have never tried the other main French dish, couscous, go to the other next door restaurant : le 104. Perfect food, and lots of hipsters (and very nice looking parisiennes, my French guy friends say…)
Voilà !!!
Now, if you're still looking for more, go to the great website LeFooding.com.
They know where the great restaurants are, and their awards are now as respected as the Michelin stars in the new genration of food lovers.
Their iphone and android app is very useful too, and I understand there's an english version!
Bon appétit les amis!
Related Posts